Why did I start this blog....dunno. Just because!!! Mostly for my digital
scrapbooking
. I don't really like uploading to galleries but like to show some family & friends how I used their pictures...LOL...sometimes that is not always a good thing. Will I update it every day...probably not. I also figured it'd be a good way to catch up with other people if they're even remotely interested in finding out what we're doing. Plus the fact that hubby works away from home 3 weeks at a time so maybe he can use it to see what we're up to :) If you can check
Facebook
almost every day hon, you can check the BLOG!!
So what's been going on since the holidays?? Not too dang much, I'll tell ya that! Had a great day on Sunday though....Kimmy was in town...
yayyyyyy
! For those not in the know, Kimmy is one of the
bestest
friends of all time :) Yep, completely sucking up here...LOL...Look what she brought me....*sigh*.....and that's only ONE bag - she brought TWO :) Should keep me going until G gets home.
What else...hmmm...dropped G. off at the airport early - and I mean EARLY - Monday morning, came home and vegged out with the kids for the rest of the day. Did absolutely nothing for New Year's Eve. I could not even stay awake to see midnight...
LOL
. First time in I don't know how many years. We usually have a bunch of people over here to celebrate. It was kind of a miserable night anyway with all the snow. Speaking of that, WHAT is up with all the snow we've been getting....grrrr....I hate it! Tuesday was
ok
, but take a look at Wednesday....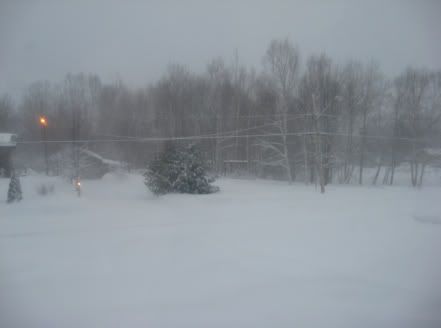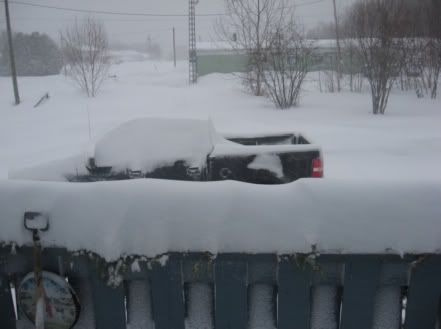 The first one was taken at 7:30 am, the other about noon (Don't mind the awful pics...still trying to figure out the settings on the new camera. I will get better. I hope). I ended up taking Shane to
WalMart
Thursday morning and the roads were miserable. We were lucky if we saw any bare pave...LOL....perfect excuse for a Timmy's break :) So today is just a laundry day....But speaking of laundry. Have you ever tried to get laundry done with a dryer THAT DOESN'T WORK???? And with a wind chill of -27c I am NOT hanging clothes on the line
thankyouverymuch
! I called my brother - J1 - to see if he could come & take a look at it....his last shift is tonight so he said he'll be up on the weekend. If he doesn't show up, I think I'm gonna talk to Kirk (hubby's good friend) and see if he knows anything about them...and just to let you know Kirk will now be known as PITA - pain in the a$$ -
cuz
that's just what he is. Plain and simple. We love to hate each other. He just ticks me off sometimes. Well, not really - but don't tell him that. Might upset the delicate balance of our relationship. ROFL...
Ok
, that about it...gonna go and see if the 2
nd
load of clothes is dried...it's only been about 3 hrs or so since I've been trying to dry them *sigh*....later....